Elevate Your Home Entertainment with an Outdoor TV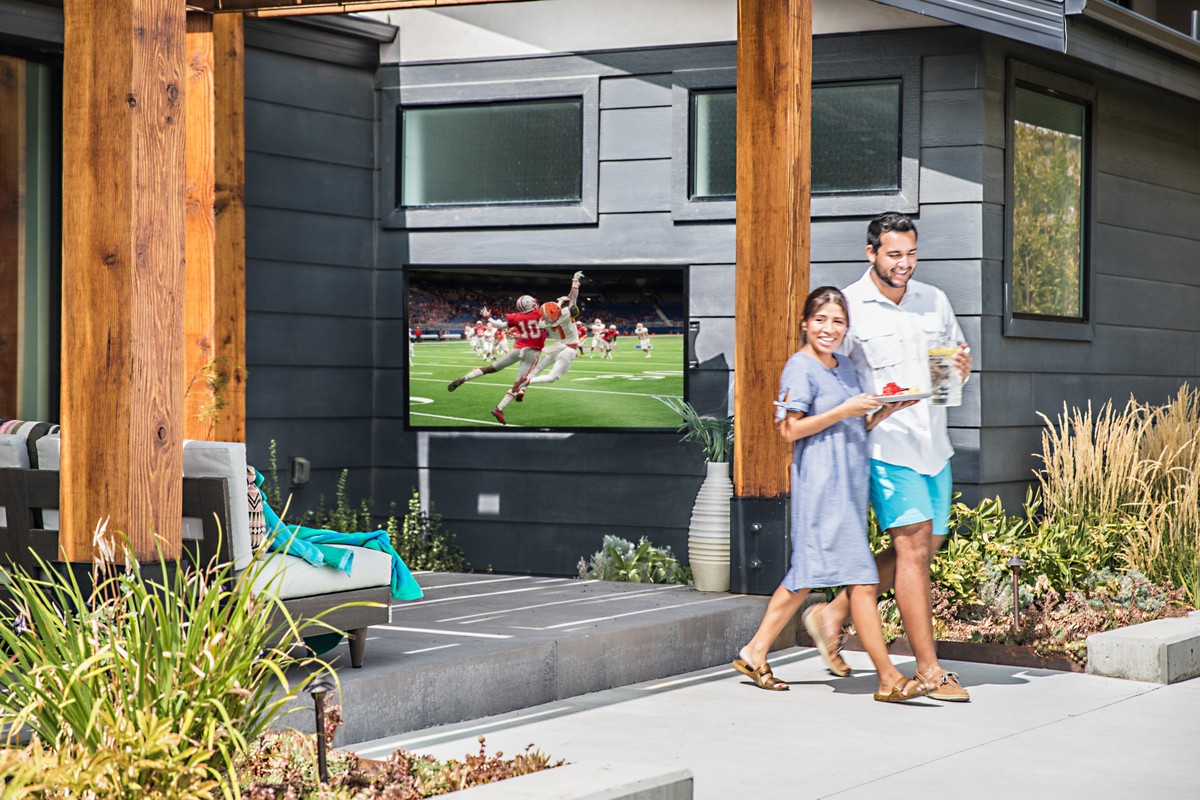 Enjoy your alfresco spaces even more by adding outdoor video. 
Summer is just around the corner! And with this in mind, it's important to prepare your home for sunny days, playing sports with your kids, grilling out with the family, or hosting fancy cocktail parties under the stars. Enhance every activity in your backyard, terrace, or patio by integrating home entertainment with an outdoor TV installation! 
The experts at simpleHome are ready to install the best entertainment technology to elevate every alfresco experience in your Boston, MA, home. Keep reading our blog to learn more about the benefits of an outdoor TV.
SEE ALSO: 4 Ways To Enjoy Your Outdoor Space With Whole-Home Audio
Why You Should Install an Outdoor TV
We understand how tempting the idea of simply mounting your indoor TV outside can be. After all, wouldn't you enjoy your content just the same? Well, our answer is a resounding no! To get the experience you and your family deserve, you need to incorporate a high-quality installation. Outdoors TVs are designed specifically with much higher brightness levels to provide impeccable picture definition outside. In addition, outdoor TVs are built to withstand dust, extreme heat and cold, rain, snow and bugs. So, no matter the weather outside, you can trust your TV will stay in excellent condition for many years.
Our Recommendations For You
At simpleHome, we partner with reputable brands to integrate the best tech solutions into your home. For example, one of our top recommendations for outdoor TVs is Séura that provides professional-grade televisions for shade or full sun exposure and a sophisticated design that perfectly blends with your décor.
Another great brand is SunBrite, a leader in the outdoor TV industry. With SunBrite, you can choose from a wide range of 4K TVs built for full-shade, partial sun and direct sun exposure, allowing you to enjoy the best picture quality without worrying about annoying glare. 
Add More Luxury to Your Experience with a Home Automation System
A luxurious entertainment experience doesn't end with high-quality installations. Let simpleHome install a home automation system, so you can have full control over your content and effortlessly manage your surroundings to create the perfect atmosphere for a binge-watching day or an exciting gaming night. 
With Savant, for example, you can control your lighting, climate, shading and more by simply tapping a button on the Savant Pro App on your phone, tablet or remote control. Want to make home control even more simple? Speak your mind and manage your home with a voice command!
At simpleHome, we want you to think big about your entertainment experience. Our team can work with you to integrate intuitive smart home features that will help you enjoy your alfresco spaces and activities even more.
For example, we can incorporate a robust home networking and access points to provide a strong connection in every area of your house, allowing you to stream high-definition content in your outdoor areas. 
If you are an audiophile, we are sure you'll love our high-quality outdoor speakers, perfect to set playlists to enhance your gatherings or provide a relaxing environment to have a drink and read a book. 
But our outdoor installations don't stop at entertainment! Do you want to enjoy your spaces way after dark? Our landscape lighting solutions will let you keep the fun going for many hours, while helping you keep your residence looking stylish. Are you an avid swimmer? Take good care of your hot tub and pool with our control systems that provide a safer and more luxurious experience!
Remember that simpleHome works with several home automation systems, and we are ready to help you elevate your living and entertainment with our high-tech solutions. Are you thinking of enhancing your exterior spaces with an outdoor tv installation? Contact us today for a consultation and check out the experience for yourself in our showroom!